CPH Street Lamp
The Copenhagen Municipality funded an experiment in the street of Blekingegade in Copenhagen, and Philips Lighting additionally supported with LED fixtures and production facilities. The essential part of this lighting experiment was to test out the affect of interactive lighting schemes on urban life and with an additional sustainable benefit. This final lighting experiment thus had three overall aims to combine the perspectives of a functional, sustainable and social urban lighting.
To make a low-cost fully operational experiment it was decided to use the existing lighting fixtures in Copenhagen, which most of the existing street lighting consists of. The body of the fixtures was emptied for existing technologies and new LED lighting technologies, motion sensors and an intelligent control unit was installed to allow for an individual configuration of lighting levels at different parts of a street. Six LED modules from Philips each illuminated a part of a street space with main focus on the pedestrian areas and with each fixture connected to a motion sensor.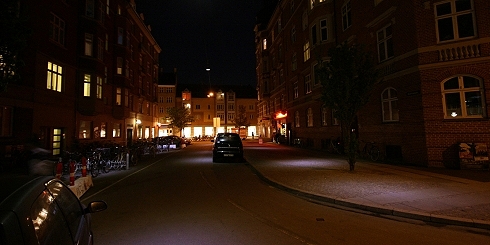 Information
Client: Copenhagen Municipality
Collaborators: Bo Stjerne Thomsen
Involvement: Design, build and program the electronics for the street lamp.
Technologies: C++ / AVR MCUs / ZigBee / Electronics / DMX / IR sensors