Wall of Startups
The Wall of Startups is created for Cassiopeia, Department of Computer Science at Aalborg University, the wall showcases the companies started through the Department of Computer Science's incubator scheme, Greenhauz and Neuhauz.
A small light emitting diode represents each of the startup companies, with the possibility to connect up to a max of 60 leds / 60 companies. The leds fade slowly in and out which gives the stars on the board life. Each of leds can also be controlled individually through DMX which overwrites the default fade behavior.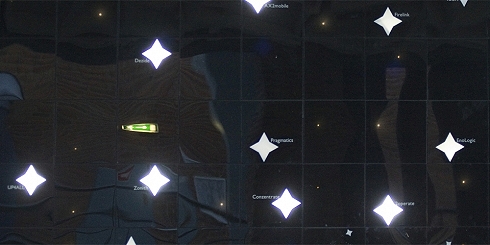 Information
Client: Cassiopeia, Department of Computer Science, Aalborg University
Collaborators: Ideaal
Involvement: Design, build and program the electronics for the installation.
Technologies: C / PIC18F MCUs / Electronics / DMX / LEDs